11 Ideas For Dinner Tonight, #4
Don't Settle For A Boring Meal—Make This Tasty Dish Instead! While some people think quiche should only be served for breakfast or brunch, I think it makes the perfect dinner. It looks so impressive (and sounds impressive, too!) but with less than 10 ingredients including salt and pepper you'll be on your way to the best egg dish you've ever had.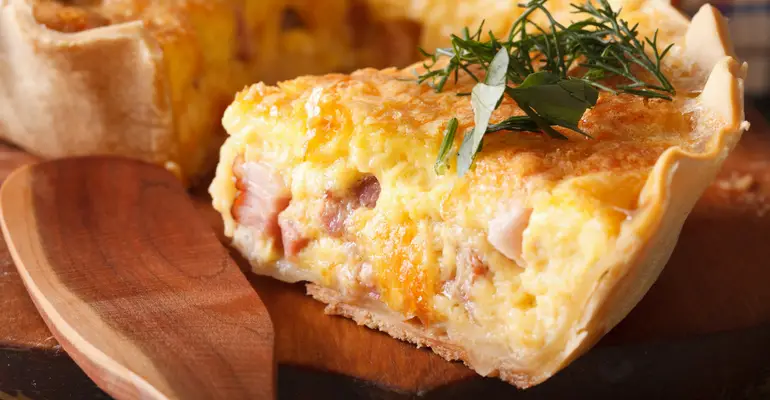 Serve it to your family on a lazy weekend, at a brunch with your close friends or family, or make it for an easy weeknight dinner. You can't go wrong with this delicious dish. Fluffy, creamy eggs combine with cheese, ham and flaky pie crust to create a drool-worthy meal you'll make again and again.
Ingredients
1 tbsp butter
1/2 yellow onion, chopped
4 eggs, lightly beaten
1 cup half-and-half
1/4 tsp salt
1/4 tsp black pepper
1 1/2 cups diced ham
1 cup shredded swiss cheese
1 cup shredded cheddar cheese
1 frozen/refrigerated pie crust (deep dish style)
Instructions
Preheat oven to 375 F.
Melt butter in a small pan and cook onion until soft. Let cool slightly.
In a large bowl, combine eggs, half-and-half, salt and pepper. Whisk to combine.
Stir in ham and both cheeses. (Leave some to sprinkle on top.)
Stir in cooked onion.
Pour filling into pie crust, set on a baking sheet and bake for 40 to 45 minutes, or until set.
Serve warm or chilled.
USE THE RED NEXT PAGE LINK BELOW FOR #3 OF OUR 11 IDEAS FOR DINNER TONIGHT
Quick tip: To make a little healthier leave out the piece crust and bake as a crustless quiche—just make sure to grease the pie plate extremely well before adding the egg mixture.