11 Ideas For Dinner Tonight, #9
All Of The Flavor Of Chinese Take Out With None Of The Mystery Ingredients? Sign Us Up! This Copy Cat Panda Express Orange Chicken is just as delicious (or even more so!) than its restaurant counterpart with NONE of the questionable ingredients that you'd find at the restaurant. The orange flavor is bright and bold but not overpowering. And using chicken thighs means the meat stays deliciously moist and tender even after frying.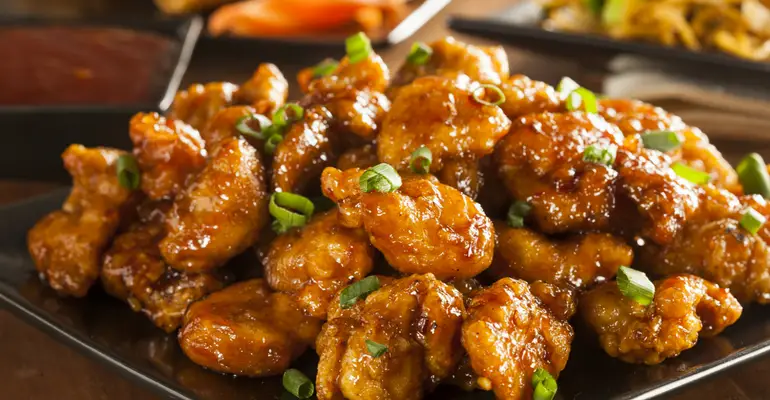 The sauce is thick and rich, perfectly coating the crispy chicken and packing a flavor punch that puts Panda Express in its place. My family can never get enough of this copy cat dish, and I think yours will love it too.
Ingredients
For the Chicken
2 pounds boneless skinless chicken thighs dices into bite sized cubes
1 large egg
1 tsp salt
Pinch black pepper
2tbsp olive oil (divided and more for frying)
½ cup cornstarch
¼ cup flour
For the sauce
1tbsp cornstarch
2tbsp rice wine
¼ cup water
1tsp sesame oil
3tbsp soy sauce
½ cup plus 2 tbsp sugar
½ cup plus 2tbsp white vinegar
Zest of 1 medium orange
To finish
1 ½ tbsp minced ginger
2tsp minced garlic
½tsp crushed red pepper flakes
Instructions
Make sauce by combing 1tbsp cornstarch, rice wine, water, sesame oil, soy sauce, sugar, white vinegar and orange zest.
Add egg, salt, pepper and 1tbsp oil into a large bowl and whisk together. In separate bowl add ½ cup cornstarch and ¼ cup flour and mix well.
Heat oil in large frying pan or wok until it reaches 375 degrees.
Dip chicken pieces in egg mixture and then dredge in flour mixture.
Fry chicken in batches until golden brown and crispy (about 4 minutes per batch).
When done with all chicken set aside and remove all oil from pan except about a tbsp. Add ginger, garlic and crushed pepper and cook for 10 seconds. Add sauce and bring to a boil.
Toss chicken in sauce to coat. Serve over rice.
USE THE RED NEXT PAGE LINK BELOW FOR #8 OF OUR 11 IDEAS FOR DINNER TONIGHT
Quick tip: You can use chicken breasts in place of thighs but the flavor won't be quite as spot on with Panda Express's recipe.