11 Ideas For Dinner Tonight, #6
This Pork Roast Recipe Gets 5 Star Reviews From Anyone Who Tries It! If you're looking for an outrageously flavorful and tender pork loin recipes you've come to the right place. This herb crusted pork loin is out of this world delicious and cooks up perfectly moist and juicy every time you make it.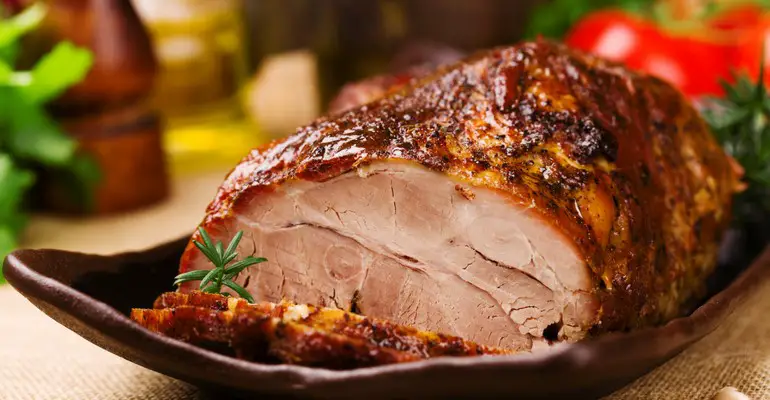 Plus, while it looks fancy it's actually so easy to put together—perfect for any holiday or party!
A generous layer of herbs is rubbed on the exterior of the roast before roasting it low and slow in the oven. The flavors sink into the meat, giving it a perfect balance of fresh and savory flavors no one can resist.
Ingredients
3-4lb pork roast (pork loin)
2tbsp chopped fresh rosemary (about two sprigs)
2tbsp chopped fresh thyme (about 10-12 sprigs)
½ tsp salt
½ tsp pepper
8 cloves garlic
2 tsp lemon zest
½ tsp paprika
Instructions
Preheat oven to 350 degrees.
Blend spices in a small blender or food processor until it forms a past like texture.
Rub spices evenly over the tops and sides of roast (and on bottom if it's a slightly smaller roast).
Place roast fat side up on a roasting pan and cook for 20 minutes per pound until temperature reaches 160 degrees.
Remove roast and let sit for 10 minutes before serving.
USE THE RED NEXT PAGE LINK BELOW FOR #5 OF OUR 11 IDEAS FOR DINNER TONIGHT
Quick tip: After step 3 you can wrap roast in plastic wrap and let sit in fridge for a few hours or up to overnight to let the flavors really sink into the meat.