11 Ideas For Dinner Tonight, #5
This Is One Recipe We Know You'll Make Over and Over Again! These Southwestern Chicken Roll Ups are the perfect dinner for busy families who still want something with tons of flavor!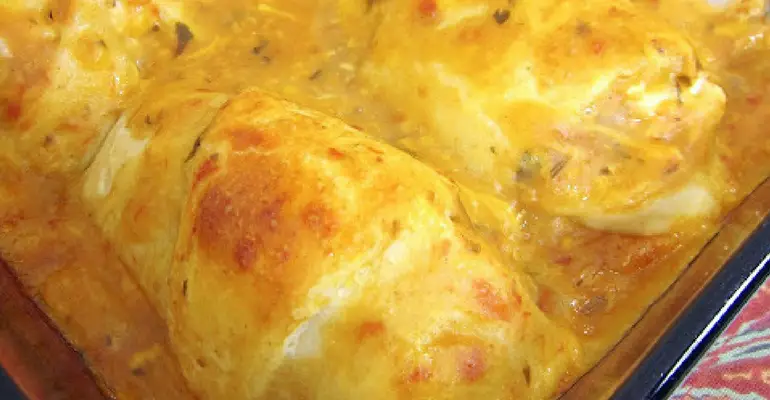 Delicious, buttery crescent rolls envelope a spicy, cheesy chicken filling that you won't be able to resist sneaking a few bites of. Then they're baked to perfection in a cheesy, salsa-filled sauce that coat them perfectly.
You'll be in love after the first bite and wonder why you haven't had these before! With just a few pantry staple ingredients in under an hour you'll have a supper ready that your whole family will gobble right up.
Ingredients:
2 cups cooked chicken
4 oz cream cheese, softened
2 Tbsp taco seasoning
1 can cream of chicken soup
1/2 cup salsa
1 cup shredded cheddar cheese, divided
1 can refrigerated crescent rolls
Directions:
Preheat oven to 375F.
Spray a 9×13 dish with cooking spray.
Mix together salsa, cheese and chicken soup.
For the filling, mix together the cream cheese, taco seasoning, chopped chicken and remaining cheddar cheese. Unroll the crescent rolls. Place 2 heaping tablespoons of the chicken mixture on top of each crescent roll and roll up. Place in prepared dish. Repeat with remaining crescent rolls.
Pour soup mixture over crescent rolls. Bake for 30-40 minutes, until rolls are cooked and golden brown.
USE THE RED NEXT PAGE LINK BELOW FOR #4 OF OUR 11 IDEAS FOR DINNER TONIGHT
Quick tip: Use low-sodium cream of chicken soup for a healthier option.
Southwestern chicken roll ups recipe and photo courtesy of Plain Chicken.