11 Ideas For Dinner Tonight, #3
Nothing Has Ever Looked Better Than These Outrageous (Easy) Homemade Cinnamon Rolls! No meal is perfect without a scrumptious dessert, and that's exactly what these awesome cinnamon rolls are.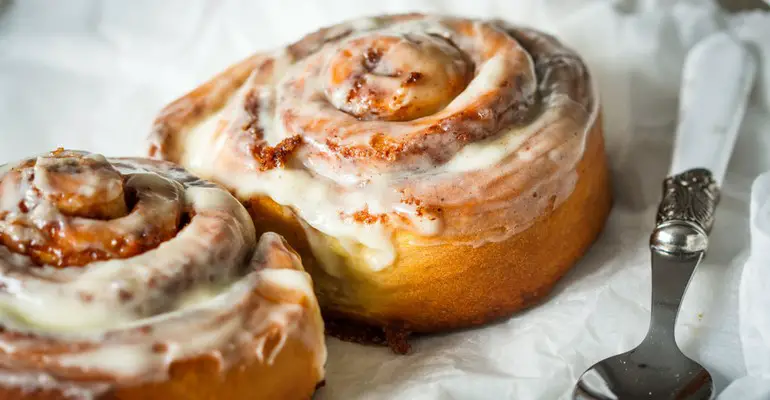 They're great for even a less experience baker because there's no working with yeast—which means no worrying about waiting for the dough to rise. Just make the dough and get it in the oven. You'll have warm, gooey, buttery cinnamon rolls before you know it.
This dough is soft and tender with just a hint of sweetness. And the filling is bursting with cinnamon flavor. Combine that with a tangy cream cheese icing and you'll be in easy no yeast cinnamon roll heaven.
Ingredients
Filling:
¾ cup light brown sugar
¼ cup sugar
3 tsp cinnamon
½ tsp vanilla
⅛ tsp salt
¼ cup butter, softened
Dough:
2½ cups flour
2 Tbs sugar
1¼ tsp baking powder
½ tsp baking soda
½ tsp salt
1 cup buttermilk
¼ cup milk
5 Tbs butter, melted, divided
2 Tbs butter, softened
Frosting:
3 Tbs butter, softened
3 oz cream cheese
1 cup powdered sugar
¼ cup half n half
½ tsp vanilla extract
Instructions
Preheat oven to 425. Use 1 Tbs melted butter to grease the bottom of a 9 inch cake pan. Set aside.
In a medium bowl make the filling. Combine sugar, brown sugar, cinnamon, and salt. Mix together. Add in vanilla and cut in butter with a fork or your hands until well combined. Set aside.
In a large bowl whisk together flour, sugar, baking powder, baking soda, and salt. Using a liquid measuring cup, measure 1 cup of buttermilk, add ¼ cup other milk and then whisk in 2 Tbs melted butter. Mix buttermilk mixture into dry ingredients until just combined, then knead with your hands for about 30 seconds.
Lightly flour a clean work surface. Use hands to press dough into a 12×10 inch rectangle. (does not have to be exact or perfectly rectangular). Brush 2 tbsp melted butter onto the entire surface of the dough. Spread filling evenly onto dough coming to about ½ inch of edges. Lightly press filling into dough. Starting with the long end of the rectangle, roll the dough to the opposite end. Roll the dough back and forth to shape it evenly into a log shape. Pinch the ends together and cut off the excess, about ½ inch. Cut the dough into 8 equal sections.
Place one roll in the middle of the buttered cake pan and then place the remaining seven rolls evenly around the first. Brush the tops with remaining 1 Tbsp melted butter. Place rolls in the oven and allow to bake at 425 for about 15 minutes, then reduce temperature to 350 and allow to bake about 10 more minutes, until edges begin to lightly brown.
While rolls are baking, prepare the frosting. Using a hand mixer, beat softened butter and cream cheese until light and creamy. Add in powdered sugar, vanilla, and half n half. Mix until well combined. When rolls are finished baking, allow to cool 5-10 minutes
USE THE RED NEXT PAGE LINK BELOW FOR #2 OF OUR 11 IDEAS FOR DINNER TONIGHT
Quick tip: For some extra flavor in the filling sprinkled on a handful of raisins or pecans.