Good Dinner Ideas #2
Cheese Stuffed Mini Meatloaves are an over the top dinner you won't soon forget! Who could resist their own perfectly portioned meat loaf? No one that's who.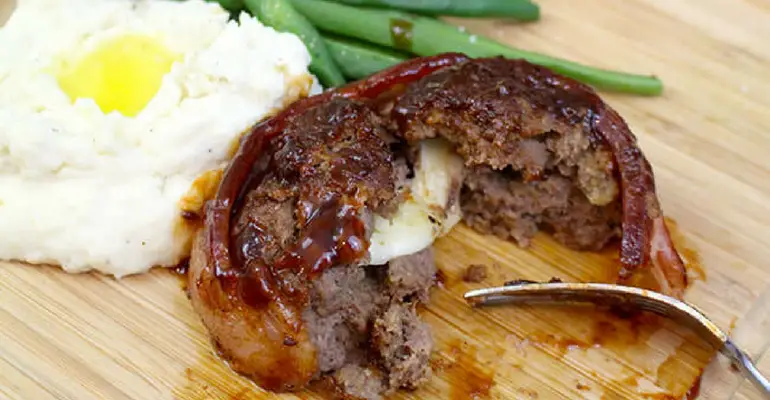 And stuff it with cheese and wrap it with bacon and then it becomes even more delicious.
The addition of barbecue sauce as a topping for the meatloaf and in the meat mixture itself gives it another level of flavor that is outrageously tasty. And the pieces that got just a little bit crispy from the oven will make you drool. I guarantee your whole family will love this show stopping dinner.
Ingredients
Ingredients (mix up order)
1 pound ground beef
½ cup panko bread crumbs
1/3 cup your favorite barbecue sauce
1 tbps mustard
1 tbsp honey (optional)
¾ tsp salt
½ tsp pepper
6 1-inch cubes of mozzarella
6 slices of bacon
Instructions:
Preheat oven to 350 degrees. In a bowl use your hands to mix together the beef, panko, barbecue sauce, mustard, seasonings and honey. Don't overwork the meat. Divide the mixture into 12 pieces and form them into equal size patties. Place a cub of cheese onto six of the patties and then cover it with the rest of the patties and gently press seams together. Wrap a slice of bacon around each loaf and brush tops with extra barbecue sauce. Bake for 25-30 minutes and brush with more sauce before serving.
Recipe and image courtesy of Sandy Toes and Popsicles.
USE THE RED NEXT PAGE LINK BELOW FOR GOOD DINNER IDEAS #1
Quick tip: Use turkey bacon for a leaner option.