Good Dinner Ideas #3
If you're looking to switch up your dinner routine, this recipe has you covered! This Shepherd's Pie is a stunning classic recipe that your whole family will love!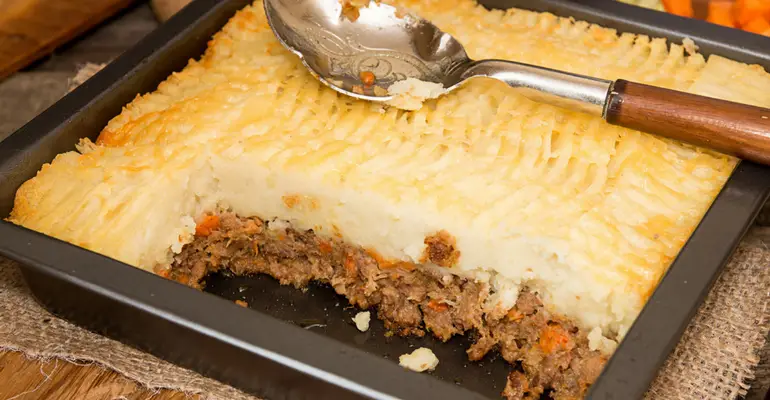 A hearty, savory meat filling provides the perfect contrast to smooth and creamy garlic mashed potatoes. Both layers are delicious on their own but when combined they're even more sensational.
A little bit of prep (all easy steps—promise!) leads to one of the most comforting dinners you could imagine. Your whole family will be begging for seconds once they get a taste of this satisfying dish. Make it for a cozy weekend dinner or to spoil family and friends when they come for a visit. You won't be disappointed!
Ingredients
3 medium/large russet potatoes, peeled & small diced
1/4 cup milk
2 Tbsp butter
2-3 garlic cloves, minced
Salt & Pepper
Shredded Parmesan/Asiago/Romano Blend
Meat Filling:
1 lb ground beef
1 cup small diced carrots
1/2 white onion, chopped (about 1 cup)
Salt & Pepper
2 garlic cloves, minced
Instructions:
Boil the potatoes for 15-20 minutes or until soft.
Preheat oven to 425 F.
Meanwhile, brown beef with carrots, onion, salt & pepper in a large non-stick skillet. Drain fat and return to pan.
Add garlic, thyme, sugar, Worcestershire sauce and broth to meat mixture. Simmer 3-5 minutes until liquid reduces a bit.
While the liquid is reducing, prepare the potatoes. Drain the water and put potatoes in a stand mixer with the paddle attachment. Add milk, butter, garlic, salt & pepper to taste. Whip the potato mixture until most lumps are gone, but don't overmix to make it pasty. Set aside.
Add peas to meat mixture, stir and remove from heat. Pour meat mixture in bottom of a square baking dish. Spread evenly. Top with potatoes and drag fork over the top to make small peaks. Sprinkle the desired amount of cheese over the top of the potatoes. Bake in the preheated oven for 25-30 minutes or until the liquid is bubbly and top is browned.
USE THE RED NEXT PAGE LINK BELOW FOR GOOD DINNER IDEAS #2
Quick tip: Use any kind of meat you prefer for this dish.