Good Dinner Ideas #5
Serve up this classic dinner when you just need some comfort food! This Best Ever Crockpot Pot Roast was literally life changing for me.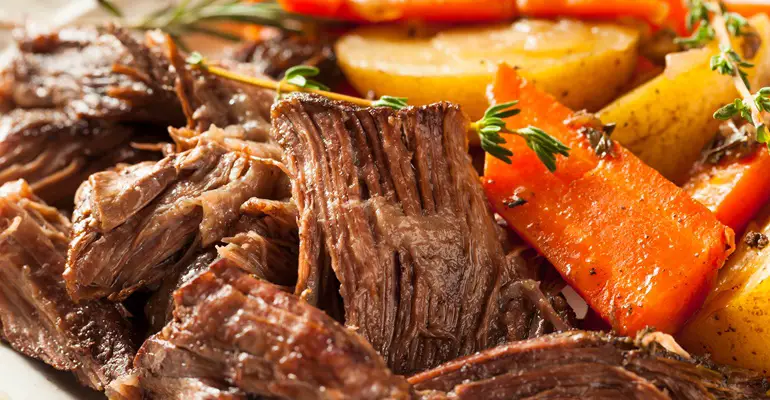 My first bite of the juicy, tender and flavorful roast reminded me of just how good a home cooked meal could be—and how something out of a box could just never compare. Plus, this recipe is so easy! There's only a handful of ingredients—meat, veggies, seasoning mixes and water. And they're all just tossed in the crockpot. No muss, no fuss!
Then after letting the crockpot do it's think you're left with the most mouthwatering pot roast you could imagine. If you need an easy yet totally impressive dinner to serve this is it!
Ingredients
3lb beef rib roast, bone-in, frozen
1 envelope Italian dressing mix
1 envelope ranch dressing mix (dried)
1 envelope brown gravy mix
Optional: potatoes and carrots
Enough water to just cover the potatoes and carrot
Instructions:
If you wish to make your carrots and potatoes at the same time, wash them thoroughly, chop them and put in the bottom of the slow cooker. Put the roast on top of the veggies. Sprinkle all 3 envelopes of seasonings on top. Add just enough water to cover the vegetables. Cook on LOW for 6-10 hours until the meat is tender and veggies cooked through.
USE THE RED NEXT PAGE LINK BELOW FOR GOOD DINNER IDEAS #4
Quick tip: For extra flavor sear you roast in a hot pan on the stovetop before adding to the crockpot.