Good Dinner Ideas #6
Today, I present to all of you my late mother's homemade sausage gravy and biscuit recipe. Nothing says "Southern comfort food" like a good batch of sausage gravy.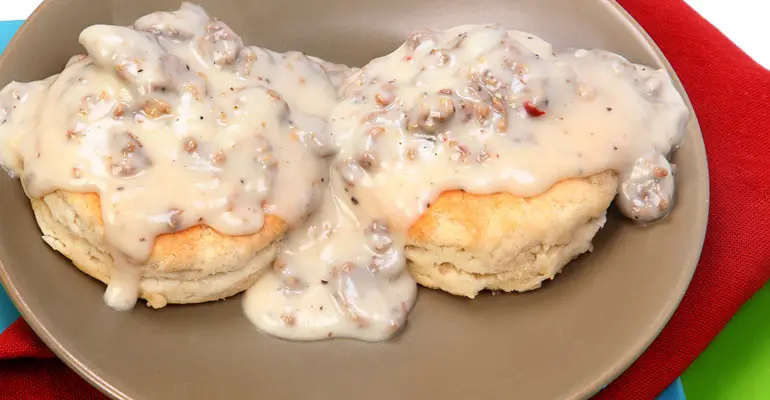 I've tried tampering with this recipe in the past, but nothing compares to the original my mama made.
There's nothing fancy about it, and there's nothing too technical. It's just good, old fashioned, homemade cooking that makes breakfast taste just right. This is also my advice to you: don't fix what isn't broken!
Don't worry about trying to make sausage gravy fancy or extra special and unique. The best part of Southern cooking is it can't be overdone, it just has to taste good! Even though some people consider dish a breakfast dish, my family often enjoys this for dinner!
Ingredients:
1 lb breakfast sausage (pork
3 cups milk
4 Tbsp flour
salt and pepper, to taste
vegetable oil, if needed
Instructions:
Cook sausage in a heavy-bottomed skillet, breaking it up with a spatula. Continue until fully cooked, about 15 minutes. Drain the cooked sausage in a colander, reserving the drippings, for at least 5 minutes, shaking occasionally.
Place pan over medium high heat and add the reserved drippings. If there isn't enough, add some vegetable oil so that the fat in the skillet just barely covers the entire bottom.
Add the flour. Season with salt and pepper and stir until flour turns deep brown and smells nutty. Be careful not to burn it!
Add milk 1 cup at a time, whisking constantly. Allow gravy to thicken between adding each cup of milk. When gravy is slightly thinner than desired, remove from heat, stir in the cooked sausage and allow to sit for 5 minutes before serving.
Serve over homemade biscuits.
USE THE RED NEXT PAGE LINK BELOW FOR GOOD DINNER IDEAS #5
Quick tip: Do not walk away from the stove when browning the flour, it burns easily!