Good Dinner Ideas #7
Macaroni and cheese has to be considered the number one comfort food of all time. It has those carbs that give you a full, satisfied feeling that almost puts you in a stupor.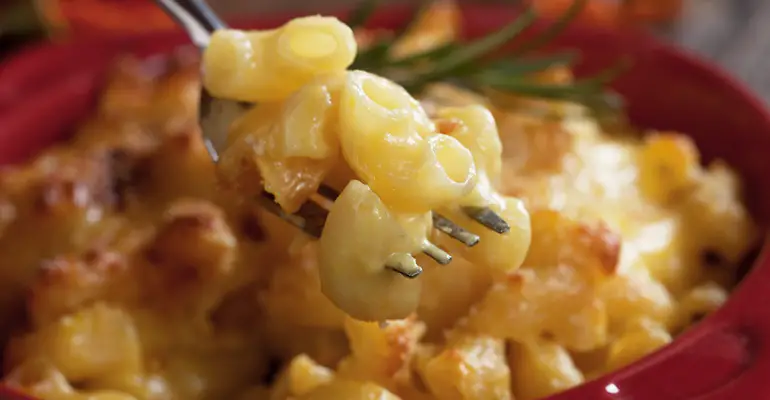 Plus it has cheese – glorious cheese! Whenever I feel the need to comfort myself with food after a long, trying day, macaroni and cheese is my go-to dish.
Although it is rather humble, as food goes, you can dress it up and make it worthy of dinner guests by adding meats, such as crab or even lobster. You can enhance it further by adding asparagus tips, mushrooms and water chestnuts. Served with garlic bread and a nice white wine, it will impress your guests.
Ingredients
1 pound elbow macaroni
4 Tbsp butter
3 cups milk
¼ cup flour (all-purpose)
1 (12-oz.) can evaporated milk
1 tablespoon cornstarch
1 tablespoon chicken bouillon
1 tablespoon Dijon mustard
1 tsp onion powder
1 tsp garlic powder
1 tsp dried parsley
1 tsp salt
pepper, to taste
½ teaspoon red pepper flakes
4 cups sharp cheddar cheese, grated
7 slices provolone cheese
1 cup sour cream
1 cup freshly grated Parmesan cheese
Optional Crumb Topping:
2 Tbsp butter
¾ cup breadcrumbs
1 Tbsp extra-virgin olive oil
Instructions:
Cook the elbow macaroni according to package directions. Drain and rinse, then drain again.
Preheat oven to 350 F. Spray a 9×13 baking dish with cooking spray. Set aside.
Melt 4 tablespoons butter in a large skillet and whisk in flour. Cook, stirring for a couple of minutes. Reduce heat to low, and gradually add milk. In a small bowl, whisk cornstarch into evaporated milk and gradually add to skillet. Add mustard and all remaining seasonings.
Bring to a boil, whisking constantly then reduce heat to medium and simmer. Keep whisking occasionally until thickened. Remove from heat and stir in the grated, sharp cheese until melted. Add pasta and toss until evenly coated.
Pour half of the mixture into prepared baking dish. Layer macaroni evenly with provolone cheese, then add an even layer of sour cream. Pour remaining macaroni mixture over sour cream and spread into an even layer. Sprinkle with 1 cup Parmesan cheese.
Optional crumb topping: Melt butter in olive oil over medium heat in a medium skillet. Add bread crumbs and stir to coat. Cook until crumbs become golden brown. Evenly sprinkle over macaroni and cheese.
Bake 25-30 minutes or until bubbly and inside provolone is melted. If not making crumb topping, broil until Parmesan is golden. Cool 10 minutes to set before serving.
USE THE RED NEXT PAGE LINK BELOW FOR GOOD DINNER IDEAS #6
Quick tip: Use your favorite kind of pasta noodles instead of elbow macaroni.