Easy Dip Recipes #5
We recommend chips for serving this dip recipe but, you'll want to eat this with a spoon! It was love at first bite for me with this crazy delicious jalapeno popper dip recipe.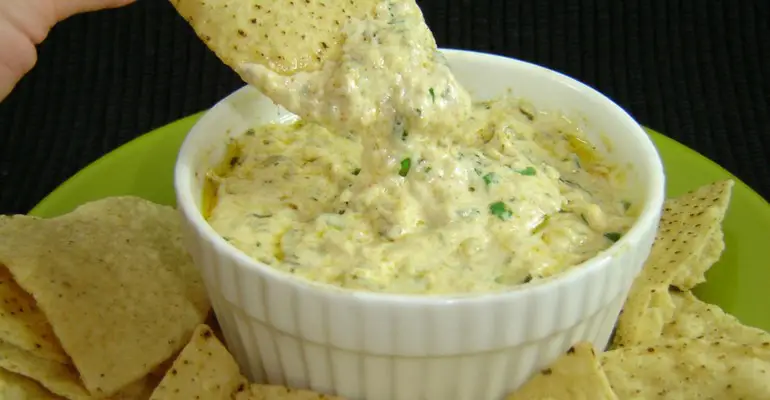 I'm honestly not sure what even drew me to it at the party. All I know is that one serving quickly turned into two and then a third somehow ended up on my plate. It was just so good—I couldn't stop eating it!
There's just something about the combination of spicy peppers with warm and melty cheese that just gets to me. And pair it with a pile of tortilla chips and I'll be powerless to resist. If you're an app lover or, just love food you've got to give this dip recipe a try.
Ingredients
2 (8 oz.) pkgs. cream cheese, softened
1 c. Mayonnaise
1 (4 oz.) can diced green chiles, drained
1 (4oz.) can jalapenos, drained
1 c. Mexican cheese blend, shredded
1/2 c. Italian cheese blend, shredded
1/2 – 1 bunch cilantro, chopped
1/2 – 1 tsp. cumin, to taste
1/2 – 1 tsp. chili powder, to taste
bread crumbs, opt.
Instructions
Combine cream cheese and Mayo until smooth. Add diced green chiles, anaheim chiles, both cheeses, cilantro, cumin and chili powder. Stir together until thoroughly combined. Taste and adjust seasonings, if needed. If you would like to serve this dip hot, pour into a 9×9 baking dish and top with bread crumbs. Bake 25-30 minutes or until hot and golden. Serve with baguette slices, tortilla chips, crackers, veggies, etc…
Dip Recipe and image courtesy of Eat Cake for Dinner.
USE THE RED NEXT PAGE LINK BELOW FOR THE EASY DIP RECIPE #4
Quick Tip: Depending on the level of spice you like you can use all jalapeno peppers or all green chiles in this recipe.