Easy Dip Recipes #3
A Mexican restaurant favorite in your own kitchen! I know the ingredient list looks a little strange, but stick with me on this one. These are the real secret ingredients. You may notice one thing missing – the cheese!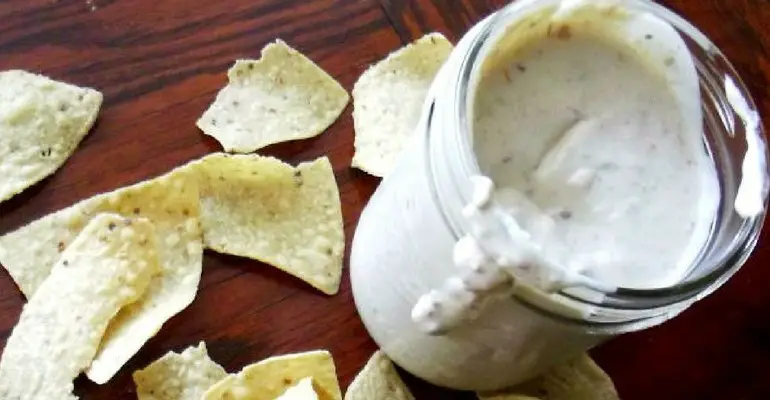 That's the big secret – you're making your own cheese here with the milk and sour cream. If that's not cool, I don't know what is.
Huge thank you to Life with the Crust Cut Off for finally giving me the secret to one of my favorite things. This recipe makes about two large mason jars full, so be prepared for a lot of chips and cheese in your near future. It's definitely one of my favorite easy dip recipes!
Ingredients
6 Cloves Garlic
Juice of half a lemon
1 tsp Oregano, Dried
4 dashes Hot sauce
18 Pimento stuffed olives
½ tsp Cayenne pepper
1 tsp Garlic salt
½ tbsp Red pepper flakes
½ tsp Salt
1 tsp Cumin
½ cup Milk
1 cup Sour cream
30 oz Miracle whip jar
1 tbsp Olive juice from jar
Instructions
Put all ingredients into a food processor and blend until smooth. Let refrigerate for 12 to 24 hours before using.
Recipe and image courtesy of Life with the Crust Cut Off
USE THE RED NEXT PAGE LINK BELOW FOR THE EASY DIP RECIPE #2
Quick Tip:  It's tempting to eat your dip right away, but let it have the resting period in the fridge; the flavors need that time to meld together.