Easy Dip Recipes #4
This deliciously addicting app will have you begging for more! I had this at a co-worker's party and fortunately, this wasn't a secret family recipe, so our host happily turned it over to me.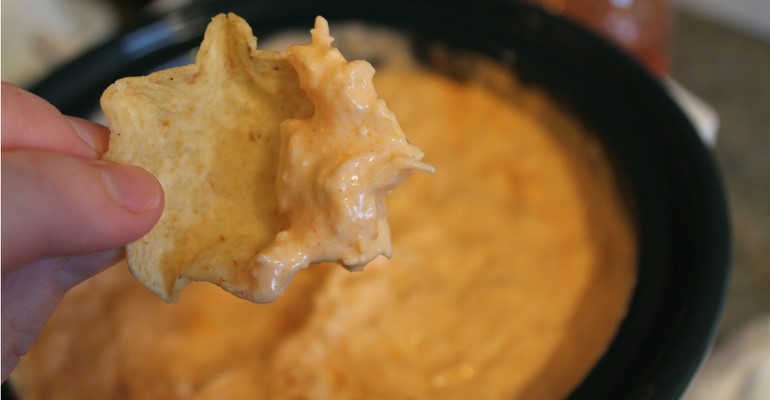 And I've made it about a million time since. It's just the absolute perfect party or snack food because it's crazy delicious and is so easy to throw together.
You literally toss all the ingredients in your crockpot, let them get all hot and melty, then add in your hot sauce and serve. I have yet to meet a person who can resist this spectacular dip. Seriously, you've gotta make it!
Ingredients:
2 8-oz packages cream cheese, softened
2 12-oz cans of chunk chicken, drained
1 cup ranch dressing (liquid dressing, NOT dry mix)
1 package shredded cheddar cheese (about 2 cups)
1-2 cups Frank's Red Hot Sauce to taste (do NOT use Tabasco!)
Directions:
Add packages of cream cheese to slow cooker (set to high) and let sit for a few minutes to soften more and become easier to mix.
Drain chicken and add to slow cooker. Then add ranch dressing and shredded cheese. Stir to combine.
Cook for 15-20 minutes to make sure everything is melted together. Then add hot sauce starting with one cup and adding more until you reach your desired level of heat.
Give a final stir and cook for half hour or so until everything is heated through.
Set crock pot to warm or low and serve with tortilla chips or crackers for dipping.
Photo attribution and recipe: Forever Feeding.
USE THE RED NEXT PAGE LINK BELOW FOR THE EASY DIP RECIPE #3
Quick Tip: Use a crock pot liner to make clean up a breeze. If you don't have any liners, spray crockpot with nonstick spray before adding ingredients to help keep the dip from sticking.