Easy Dip Recipes #2
Creamy cheese and saucy meatballs meet for a dip that will blow you away! Sometimes it's the simplest things that blow my mind, and this recipe is a good example. It seems so obvious when you think about it, yet I never would have come up with this on my own.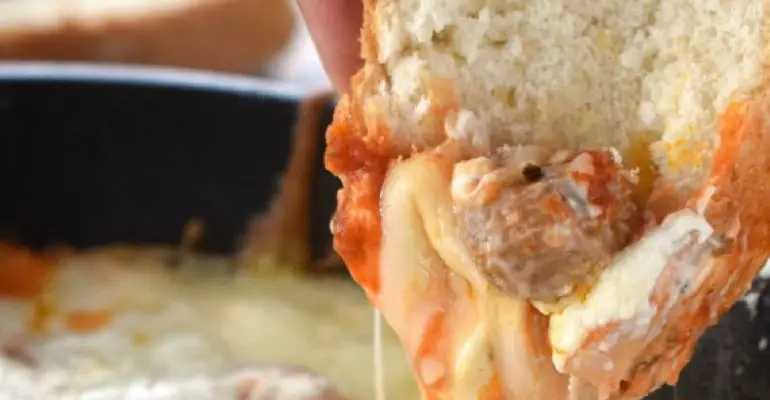 That's why I love the mastermind behind Wine and Glue, and big thanks go to them for this perfect appetizer recipe.
I've added it to my regular rotation any time I'm entertaining, and I can't wait to give this one a try with the holidays roll around. It'll make a great change from the usual cheese dip, and who could say no to saucy Italian meatballs?
Ingredients
1/2 a pound of spicy Italian sausage
16 oz cream cheese, room temperature
2 1/2 cups shredded mozzerella, divided
2 tsps dried basil
1 tsp garlic salt
1 cup of your favorite spaghetti sauce
Instructions
Preheat your oven to 375 degrees.
Make small meatballs out of the spicy Italian sausages. In a cast iron skillet over medium heat, add a small amount of olive oil, about a teaspoon. Cook the mini meatballs, turning them as they brown, until they are fully cooked. Remove them from the skillet and put them on a paper towel lined plate.
Pour out any additional oil that remains in the skillet, but no need to clean it.
In a large bowl, blend together the cream cheese, basil, garlic salt, and 1/2 cup of the mozzarella cheese until fully combined. Spread it in the bottom of the skillet. Place the meatballs on top, cover with sauce, and then top with the remaining two cups of cheese.
Bake for 15 minutes, then turn on the broiler and for five minutes. Keep a close eye on the dip so it doesn't burn.
Recipe and image courtesy of Wine and Glue
USE THE RED NEXT PAGE LINK BELOW FOR THE EASY DIP RECIPE #1
Quick tip: Be sure to use a sturdy, toasted bread, or some pita chips for this dip, as it is hefty!