No-fail Cookie Recipe #4
These Cookies Will Look Stunning On Your Holiday Cookie Tray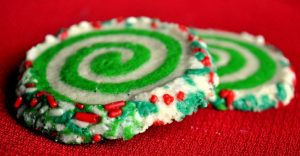 These cookies not only taste good, they also look amazing! The swirly explosion of colors makes them almost too pretty to eat – almost. There's no way in the world I would let anything stop me from enjoying these, no matter how beautiful they are! And I know you're going to feel the same way, as soon as you sink your teeth into these. The best part? You'd think these are difficult to make but, they're not!
These Holiday Swirl Sugar Cookies just make my holiday lovin' heart so happy! To me a cookie tray isn't complete without a little red and green and these do that job and more. They're so full of holiday cheer and are scrumptious—the perfect addition to any holiday cookie platter or exchange.
Made  of a soft yet sturday and perfectly sweet shortbread cookie dough that's absolutely delicious even without the swirls of festive colors, they're sure to disappear quickly whenever you make them. Watch your friends and family's eyes light up as you bring these out to them this holiday season.
Ingredients
2- Cups of Flour, plus 1 tbl Flour
1/2-tsp baking powder
1/4-tsp salt
2/3-cup unsifted powdered sugar
1/4-cup granulated sugar
2.5-sticks unsalted butter – cut into chunks
1-tsp vanilla
1/2-tsp food coloring of your choice
1 1/2 cup holiday sprinkles
Instructions
In a stand mixer, combine flour, baking powder, salt, and sugars with paddle on medium until well blended.
Add butter in, gradually and continue mixing. Add in vanilla extract. At this point, your dough will form a ball on the paddle.
Remove all dough and divide into two equal parts.  Return one portion back into the mixer and add the food coloring.  If using liquid food coloring, add a few more tbl of flour so the dough doesn't become too wet.  Mix until color is spread evenly.
Roll each portion of your dough, between two sheets of wax paper until it reaches about 11×9 inches and is 1/4 inch thick. Slide both onto a cookie sheet and chill in the refrigerator for at least two hours.
When firm, remove top sheets of wax paper from both.  Brush the uncolored dough lightly with with water using a pastry brush.  Then flip the colored dough onto the vanilla uncolored dough so they are stacked atop each other and even.  Press the edges lightly with your fingertips to seal them together.  Using a small paring knife, trim the edges to make the dough straight, even lines.
Pour out sprinkles onto a large platter and set aside.  Be sure your dough is still cold, but flexible.  Once it's ready, being rolling the long side of the dough into a swirl, jelly-roll style.  Now, don't get nervous if the outer layer of the uncolored dough tears a bit, it's okay.  Just pinch and pat…and keep rolling.
Now gently lift the log onto the sprinkles and roll away.  Cover the log completely with your sprinkles.  Wrap in plastic twice, and put in the fridge for 3-4 hours or freeze up to two months.
Slice your dough in 1/4 or 1/8 inch slices and bake on parchment lined baking sheets at 350 for 15 to 17 minutes.  Let them cool for five minutes.
Recipe and image courtesy of Mommies Need Sleep Too
No-fail Cookie Recipe #3
The Chewiest Chocolate Chip Cookies On The Planet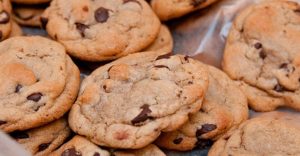 Everyone needs a great chocolate chip cookie recipe, and the chewier, the better if you ask me. These little babies won't let you down – instead, they will give your jaw a nice workout.
I really can't decide whether I like these better with cold milk or a nice latte! Either way, they are going to make your eyes roll to the back of your head, so don't skip these! And if you really want the ultimate cookie experience, I have an extra tip for you. If you're not serving these straight from the oven, throw them in the microwave for a few minutes to make them nice and warm.
Ingredients
2 1/8 cups unsifted all-purpose flour
1/2 teaspoon salt
1/2 teaspoon baking soda
12 tablespoons unsalted butter, melted and cooled until warm
1 cup brown sugar
1/2 cup granulated sugar
1 large egg plus 1 yolk
2 teaspoons vanilla extract (pure, real!)
1-2 cups semi-or bittersweet chocolate chips/chunks
Instructions:
Preheat oven to 325°F.
Mix flour, salt, and baking soda together in medium bowl. Mix butter and sugars until thoroughly blended. Mix in egg, yolk, and vanilla. Add dry ingredients; mix until just combined. Stir in chips to taste.
Form 1/4 cup dough into a ball. Holding dough ball, using fingertips of both hands, pull into two equal halves. Rotate halves ninety degrees and, with jagged surfaces exposed, join halves together at their base, again forming a single cookie, being careful not to smooth dough's uneven surface.
Place on parchment paper-lined cookie sheets. Dough can be refrigerated up to 2 days or frozen up to 1 month, shaped or not.
Bake until cookies are light golden brown and outer edges start to harden yet centers are still soft and puffy, 15-18 minutes. Cool on cookie sheets.
Recipe and image courtesy of Serious Eats.
USE THE RED NEXT PAGE LINK BELOW FOR THE NO-FAIL COOKIES #2
Quick tip: Scoop out some ice cream with one of these cookies. You won't regret it!