Om nom nom! These cookies are not exactly what you would think. They come with a surprise flavor – and yes, I would describe them as better than snickerdoodles (that's a lot, coming from the biggest snickerdoodle fan on the planet!) I highly recommend making a double batch right off the bat; first of all, because these are super easy. And second, because one batch just ain't gonna cut it!
No-fail Cookie Recipe #8
Better Than Snickerdoodles!
As I look at these sweet little cookies, my mind is wondering what they would taste like if they were rolled in a little cocoa powder mixed with some sugar. I like the taste of pumpkin and chocolate together, so I will have to try a batch like that and see how they turn out.
I am really enthusiastic about recycling and repurposing various things in my life, so the repurposing of wasted pumpkin puree really appealed to me. It is almost like making something out of nothing. That always feels good to me when I can make that happen.
INGREDIENTS
½ cup pumpkin puree
1 egg yolk
2 tsp vanilla
14 Tbsp. room temp butter (about 1¾ sticks)
¼ tsp pumpkin pie spice
1 tsp cinnamon
½ tsp salt
½ tsp baking powder
1½ cups sugar
2½ cups all-purpose flour
5 drops yellow food coloring (optional)
3 drops red food coloring (optional)
INSTRUCTIONS
In a large mixing bowl, combine room temperature butter and sugar with a mixer
Slowly incorporate the egg yolk, pumpkin puree, vanilla and food coloring
In a separate bowl, combine flour, baking powder, salt, pumpkin pie spice and cinnamon
Gradually mix the flour mixture into the pumpkin mixture and combine well
Refrigerate dough for 30 minutes
Preheat oven to 350 degrees F and spray cookie sheet with non-stick cooking spray
Using your hands, roll dough into a small 1-inch balls and lightly roll them around in a bowl of sugar to coat
Evenly space dough balls apart from each other on cookie sheet and gently press down with a fork or spatula
Bake for 10-12 minutes
Allow to cool briefly on pan, then place on cooling rack to prevent the bottom from over cooking on baking sheet
Image courtesy of Laura at Southern Made Simple.
No-fail Cookie Recipe #7
According To These Cookies It Does Snow In Mexico!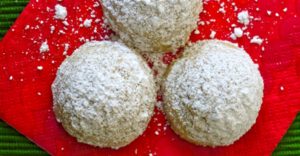 I've got great news for you; you don't have to travel all the way to Mexico to enjoy these marvelous Mexican wedding cookies! I have no idea who invented these or whether they are only served at weddings in Mexico, but I almost wouldn't mind getting married all over again, just so I could enjoy these.
Did you know these are also called snowballs? Tell that to your kids and they are going to be so excited to help you make these! Imagine the look on their faces when you say; "Hey, let's bake some snowballs in the oven!"
Ingredients
1 Cup all purpose flour
1 Cup Raw Walnuts
1/2 Tsp vanilla extract
1/2 Tsp ground cinnamon
1/2 Cup unsalted butter, softened
1/4 Cup Confectioners' Sugar, plus additional for dusting
Preparation
1. Preheat oven to 350 F.
2. Place the walnuts in a food processor and ground for 30 seconds.
3. Place the ground walnuts, flour and cinnamon in a bowl and combine.
4. Place the butter, sugar and vanilla extract in a standing mixer (or bowl using a hand mixer) and cream for 3-4 minutes.
5. Slowly add the flour mixture to the butter mixture until combined.
6. Using a mini ice cream scoop or a spoon (about 2 tablespoons), scoop out the dough and place on a Silpat or parchment lined baking sheet.
7. Bake for 15 minutes.
8. Dust with confectioners' sugar and serve.
Recipe and image courtesy of Weelicious.
USE THE RED NEXT PAGE LINK BELOW FOR THE NO-FAIL COOKIES #6
Quick tip: This recipe makes 2 dozen Mexican wedding cookies.