No-fail Cookie Recipe #10
Santa Is Going To Love These!
Are you afraid you might be on the naughty list this year? Worry not; all you need to do is bake a batch of these cookies for Santa, and he'll forget the whole list even exists!
You'd better be careful, though. If your family finds these before Santa does, he will only be left with a trail of cookie crumbs leading towards the bedrooms. Or worse; they could get into a fight over the last cookie and then EVEYRONE would be on the naughty list! You may want to hide these!
Ingredients
1 box of white cake mix, any brand
2 large egg whites
2 tbs. flour
½ C. oil
¾ C. chocolate chips + extra to press on top of the cookies prior to baking
¼ C. red, white and green holiday sprinkles
Instructions:
Preheat the oven to 350 degrees.
Combine the cake mix, egg whites, flour and oil, mixing well. Add in the ¾ cup of chocolate chips.
Roll the cookie dough into 1-2″ size balls and place 2-3″ a part on your baking sheets.
Gently press down on the cookie dough balls and place a few extra chocolate chips and sprinkles on top.
Place in the oven and bake 8-10 minutes. Do not over bake.
*Makes approximately 2 dozen cookies
Recipe and image courtesy of The Rebel Chick.
No-fail Cookie Recipe #9
You'll Never Need Another Cookie Recipe Again After Making This One!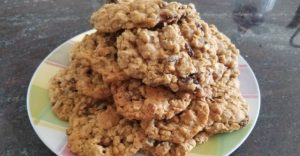 This recipe comes from my husband's aunt, who is originally from Germany. She used to make these oatmeal raisin cookies when my husband was a kid, and he hadn't had them in over fifteen years.
I persuaded his aunt to give me the recipe, and I secretly made a batch for my husband's birthday. His eyes instantly lit up when he bit into the first cookie, and you could see how surprised he was!
I swear, these are the best oatmeal raisin cookies you'll ever eat, and you must try the recipe. You'll never want to eat another type of cookie again!
Ingredients:
WHISK TOGETHER AND SET ASIDE
2 cups all-purpose flour
1 teaspoon baking soda
1 teaspoon baking powder
1 teaspoon kosher salt
CREAM WET INGREDIENTS
1 cup unsalted butter, softened
1 cup sugar
1 cup dark brown sugar, firmly packed
2 large eggs
2 teaspoons vanilla
THEN STIR IN
3 cups oats(not instant)
1 1⁄2 cups raisins
Instructions:
Preheat oven to 350°.
Whisk dry ingredients; set aside.
Combine wet ingredients with a hand mixer on low.
To cream, increase speed to high and beat until fluffy and the color lightens.
Stir the flour mixture into the creamed mixture until no flour is visible.
(Over mixing develops the gluten, making a tough cookie.) Now add the oats and raisins; stir to incorporate.
Fill a #40 cookie scoop and press against side of bowl, pulling up to level dough (to measure 2 tablespoons of dough).
Drop 2-inches apart onto baking sheet sprayed with nonstick spray.
Bake 11-13 minutes (on center rack), until golden, but still moist beneath cracks on top.
Remove from oven; let cookies sit on baking sheet for 2 minutes before transferring to a wire rack to cool.
Recipe And Image courtesy of Genius Kitchen.
USE THE RED NEXT PAGE LINK BELOW FOR THE NO-FAIL COOKIES #8
Quick Tip: You can soak the raisins in rum beforehand for a fun twist!