No-fail Cookie Recipe #6
No-One Is Afraid Of These Monsters!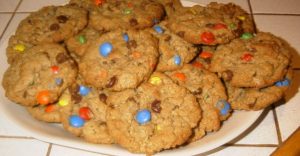 What would the world be like without monster cookies? Certainly not as much fun, I'd say! I don't know anyone who doesn't like these monsterous treats, and I also don't know anyone who has been able to stop at just one cookie. It simply isn't possible.
Bake these up, then hide half a batch in the bedroom – or they will all vanish without a trace. I may or may not have a stash of these behind my T-shirts as we speak. I'll share them with you if you don't tell anyone, ok?
Ingredients
2 sticks butter
1 cup white sugar
1 cup brown sugar
3 eggs
1 teaspoon vanilla
1 teaspoon corn syrup
2 teaspoons baking soda
1 1 /2 cups of peanut butter
4½ cups of oatmeal
2 cups chocolate chips
2 cups M&Ms, plain
Instructions
Cream butter, & sugars (white & brown).
Add eggs, one at a time..
Then add corn syrup, baking soda, peanut butter, and mix well until smooth.
Add oatmeal, mix well, scrape side of bowl, add chocolate chips, mix, add M&Ms mix anddrop batter on ungreased cookie sheets in spoonfulls, (Tablespoon) . Bake at 350 for about 10 – 15 minutes.
Edges should be golden brown. Let cool on cookie sheets about 3 minutes before removing to cooling racks. Makes 4 ½ doz. plus
Recipe and image courtesy of Amish365.
No-fail Cookie Recipe #5
Thumbs Up For These Thumbprint Cookies
When I was a kid, my mother would always make thumbprint cookies for special occasions, especially Christmas. I didn't get it back then – I just didn't understand the appeal of these cookies yet.
Now that I do, I definitely make them more than once or twice a year. These cookies are super fun to bake with kids because they get to actually make the thumbprints for the filling! If you don't like raspberry jam, you can switch to your favorite flavor instead. Or maybe even use caramel – now that would be a sweet twist, wouldn't it?
Instructions:
For the dough:
1 cup unsalted butter, room temperature
2/3 cup granulated sugar
1/2 teaspoon almond extract
2 cups all-purpose flour
1/2 cup seedless raspberry jam
Pinch of salt
For the glaze:
1 cup powdered sugar
2-3 teaspoons water
1 1/2 teaspoons almond extract
Instructions:
Preheat oven to 350 and prepare a baking sheet with parchment paper.
Combine butter, sugar, and almond extract in a large bowl and beat until creamy. Slowly add in flour and salt and mix until well blended. Cover and refrigerate for an hour.
After an hour, take dough out of the fridge, and roll into one inch balls. Place on baking sheet 2 inches apart. Make a pocket for the jam by pressing your thumb (or little finger, if you want smaller pockets) into each ball of dough. Fill with 1/4 teaspoon of raspberry jam.
Bake for 15 minutes, let cool for 1 minute before transferring to wire rack.
Combine powdered sugar, water, and almond extract to make glaze, and drizzle over cooled cookies. Enjoy!
Recipe and image courtesy of 12Tomatoes.
USE THE RED NEXT PAGE LINK BELOW FOR THE NO-FAIL COOKIES #4
Quick tip: Instead of making the glaze, you could drizzle these cookies with melted white chocolate.