Party Appetizer Ideas #2
Three Ingredients Combine To Make These Amazing Chicken Wings! If you're looking for a yummy snack or appetizer ideas recipe, you should really try my chicken wing recipe! They would be best for football game days, but you can obviously use them for any sporting event.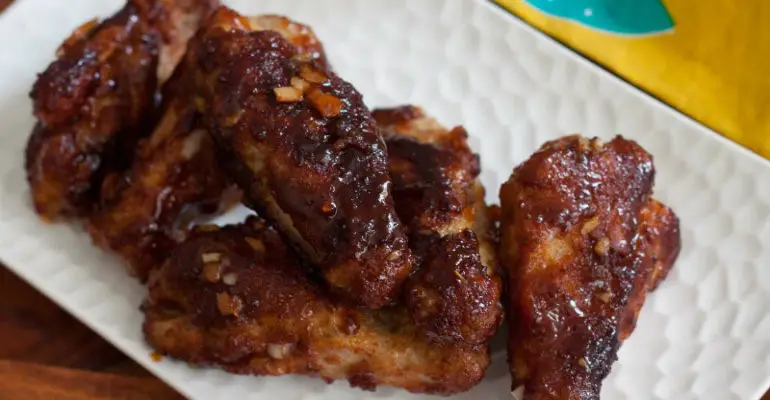 A plate of these wings at a holiday party or family get together would be great too. I love the combo of garlic and ginger in the sauce – both flavors balance each other out very nicely.
I suggest serving your wings with ranch dressing, blue cheese, or even 1000 island dressing for dipping. That dash of vinegar adds just the perfect amount of tang too. Yum!
Ingredients:
8 Chicken Wings
2 tablespoon Barbeque sauce
1/2 cup Bread crumbs
1 teaspoon Chilli vinegar
1 inch Ginger , chopped
2 cloves Garlic , chopped
For the tempura
4 tablespoons Corn flour
1 Whole Egg
Salt and Pepper , to taste
Instructions:
To begin making the Tempura Chicken Wings With Barbecue Sauce Recipe we will first boil the chicken wings on a sauce pot with some water.
Boil the wings for about 20 minutes till it half done. This par boiling method will help the wings to absorb less oil once you fry them.
Heat a kadai with enough oil, as it is getting heated, Strain the wings and pat dry them using a napkin.
Add corn flour and season it well with salt and pepper into a bowl, add your pat dried chicken wings and coat them completely.
Take egg in another bowl and beat well, dip the coated chicken wings in egg and coat them again with bread crumbs and carefully drop it inside the hot oil.
Do the same for the rest and fry the wings until golden brown.
Heat another sauce pan with oil, add ginger and garlic and saute until it softens. Add the barbecue sauce and chilli vinegar and once it start to sizzle.
Drop in your fried tempura chicken wings and coat the sauce well with the wings and serve hot.
Serve the Tempura Chicken Wings With Barbecue Sauce along with some fresh salad and a cocktail by the side.
Recipe and image courtesy of: Archana's Kitchen
Quick Tip: You can toss the cooked wings in a new bowl full of sauce for even coverage.
Party Appetizer Ideas #1
Pizza Lovers Rejoice—We've Got The Recipe You've Been Waiting For! These Easy Pepperoni Roll Ups are a last minute planner's new secret weapon! They're absolutely addicting and come together (including baking) in 20 minutes—how could you not love that?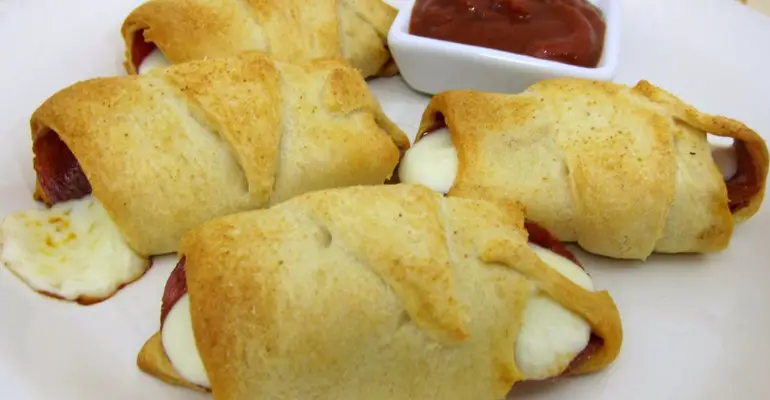 Plus, they've got all the flavors of pizza that everyone loves. Golden, flaky crescent roll dough envelopes spicy pepperonis and melty cheese. Finish them off with just a touch of garlic and you've got the perfect party treat.
I made a few batches of these for game night and they were all gone within minutes—everyone loved them. It was actually requested I start bringing them to all family gatherings going forward. I think I can oblige!
Ingredients
1 can refrigerated crescent rolls
40 slices turkey pepperoni
4 pieces of mozzarella string cheese, cut in half
garlic powder
pizza sauce
Instructions
Preheat oven to 375.
Unroll crescent rolls and separate into 8 triangles.  Place 5 slices of turkey pepperoni on each crescent roll.  Top pepperoni with string cheese half and roll up.  Sprinkle crescent rolls with garlic powder.  Place rolls on baking sheet and bake for 12-15 minutes, or until golden brown.  Serve with a side of warm pizza sauce.
Recipe and image courtesy of Plain Chicken.
USE RED NEXT PAGE LINK BELOW
Quick tip: You can add in whatever pizza toppings you like to the rolls but pepperoni are the best for keeping neatly inside.
I hope you enjoyed these party appetizer ideas recipes! Don't forget to leave your comment below!