Party Appetizer Ideas #6
These Are Perfect For Game Days, Birthday Parties and More! These Bacon Wrapped Sausages are an addicting appetizer ideas that even the pickiest eaters will love (no, seriously!)
And honestly how could you not like them? They're only three ingredients, so they're super simple to throw together whenever you need an easy and quick appetizer and tast amazing!
Yummy sausages are wrapped up in strips of bacon, sprinkled with brown sure, and baked until the bacon is deliciously crispy. They're a perfectly sweet and savory bite—you won't be able to stop at just one. Since discovering my son loves these they've become a staple at any party we throw.
Ingredients
1 pound bacon
sausages, your favorite kind
1 cup dark brown sugar
Instructions
Wrap each sausage with a bacon slice, secure with a wooden toothpick if needed. Place on a baking sheet or pan, you can line it with foil for an easy cleanup. Sprinkle sausages with plenty of brown sugar. Bake at 350F for 30-40 minutes or until bacon is cooked and crisp.
Quick Tip: For extra flavor brush the bacon wrapped sausages with barbecue sauce before sprinkling with brown sugar.
Party Appetizer Ideas #5
Stop Using Your Old Recipe And Make Deviled Eggs This BETTER Way Instead! I love experimenting with classic dishes. Deviled eggs are traditionally very basic and simple, so it's easy to add new flavors and textures to the mix.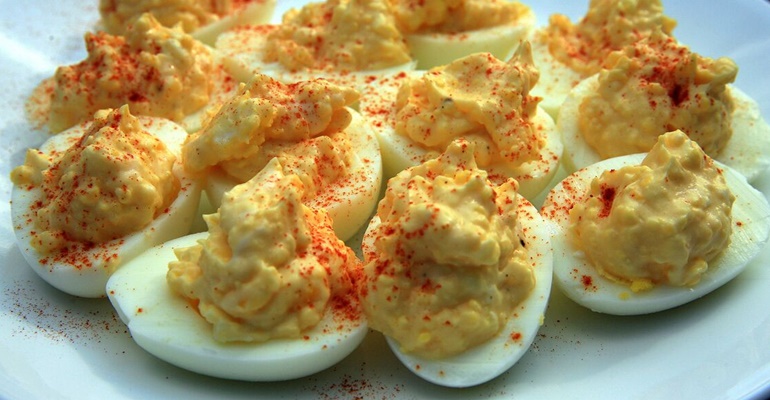 I decided to take the breakfast route, and I added bacon to my deviled eggs. I also mixed in a creamy salad dressing, tangy mustard, and tart lemon juice. It may sound like a strange combination at first, but the result is so delicious!
You can make these a day ahead and serve them for breakfast, or you can make a batch for yourself a snack on them throughout the day. Brunch, anyone?
Ingredients:
12 hard boiled eggs
1/3 cup salad dressing
1 tbsp. Dijon mustard
3 green onions, chopped
1/2 lb bacon, cooked and crumbled
1 tsp. freshly squeezed lemon juice
Salt and pepper to taste
Instructions:
Remove shells from eggs. Cut each egg in half lengthwise. Remove yolks and add them into a mixing bowl.
Mash the egg yolks using a fork, add all the remaining ingredients, and mix until well combined. Spoon into egg white halves. Garnish with a sprinkle of paprika.
Refrigerate until ready to serve.
USE THE RED NEXT PAGE LINK BELOW FOR THE PARTY APPETIZER IDEAS #4
Quick Tip: If you're hard-boiling your own eggs, 8 minutes is the perfect cooking time.