Easy Dessert Recipes #1
Don't Wait To Bake This Magical Treat. Everyone Who Tries It Can't Believe Their Eyes. This is called Magic Cake because with just one batter you end up with three different tasty layers!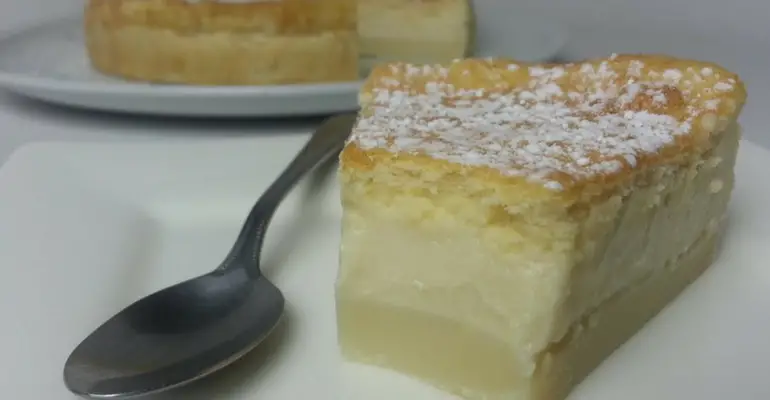 The bottom forms into an intensely moist and dense cake, then the middle bakes up like a fluffy a custard, and the top transforms into a light and airy sponge cake. It really is magical.
There's a science behind this cake's ingredients and low baking temperature that allows the different ingredients to settle out into the delicious layers. It's the perfect cake to surprise someone with—just watch their eyes light up when they see it. If you want to try something new for dessert this recipe is certainly a show stopper worth a try!
Ingredients:
4 eggs, separated,
4 drops lemon juice or white vinegar (optional)
1/2 cup + 2 Tablespoons (5.3 oz; 150 g) sugar
1 Tbsp water
2 tsp vanilla extract
1 stick + 2 tsp butter, melted (125 g)
3/4 cup (4 oz; 115 g) flour
2 cups milk, lukewarm (500 ml)
Directions:
Mix egg whites until stiff. You can add 4 drops of lemon juice or white vinegar to stabilize the egg whites.
In another bowl, beat the egg yolks with the sugar, water and vanilla until light. Add melted butter and continue beating for another minute. Then add the flour and mix it in.
Add the milk (it has to be lukewarm, otherwise the butter will harden) and beat until well incorporated.
Gently fold in beaten egg whites using a spatula or a spoon. Do not use mixer for this step because it will ruin the air bubbles trapped in beaten egg whites. Do not fully incorporate batter and egg whites. There should still be some little "clouds" of egg whites floating on top of the batter.
Pour batter into a greased and floured 8 inch x 8 inch (20 x 20 cm) square or 8 inch (20 cm) round baking dish. Do not use spring form because batter is too liquid and the pan could leak. Bake in preheated 325 F (160 C) oven for about 60 minutes or until the top is golden and cake is still soft, but not jiggly any more. If the top starts browning too quickly (after about 30 minutes of baking), cover the cake with aluminum foil.
Cool in the pan for at least 3 hours. Serve sprinkled with powdered sugar.
Big thanks to Kitchen Nostalgia. for theEasy Dessert Recipes!
USE RED NEXT PAGE LINK BELOW
Quick tip: When combining the whipped egg whites with the rest of the batter don't mix with a spoon. Instead gently fold in the eggs whites so that they maintain their fluffiness—it's essential to making sure the cake comes out with three distinct layers.
I hope you enjoyed these easy cake recipes!