Easy Dessert Recipes #3
This Is Hands Down One Of The Best Desserts We've Ever Had! This cherry chocolate cake literally makes me drool every time I think about it! Since that first taste it has taken over the top spot for my favorite cake ever and nothing has come close to unseating it.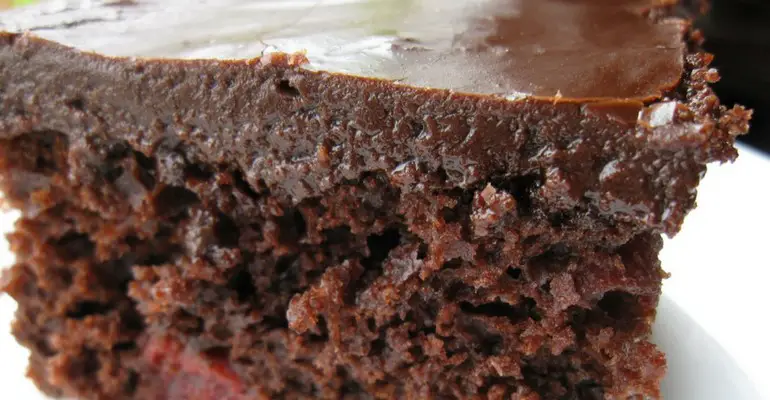 And it's SO EASY. You literally mix a chocolate cake mix, can of cherry pie filling and eggs together to make the tastiest, moistest chocolate cake to ever grace your taste buds.
And the frosting on top? Don't even get me started. It's like a thick layer of chocolate fudge that just melts in your mouth. Words don't even do it justice. You just have to try it for yourself.
Ingredients:
1 boxed chocolate cake mix
3 eggs
1 can cherry pie filling
Frosting
1 cup sugar (not powdered)
5 T. butter
1/3 cup milk
1 cup chocolate chips
Directions:
Stir eggs and pie filling into dry cake mix. Making sure to combine well without any dry lumps remaining.
Spread into a greased 9×13 pan. Bake at 350 degrees about 30-35 minutes. Cool before frosting.
Bring sugar, butter and milk to a boil in a small saucepan. Boil for 1 minute, remove from heat and stir in chocolate chips until smooth. Quickly pour over cake and smooth. (This will set pretty quickly once it touches the cake.)
Photo attribution and Easy Dessert Recipes courtesy of: Fanksgiving.
USE THE RED NEXT PAGE LINK BELOW FOR THE Easy Dessert Recipes #2
Quick tip: You'll know the cake is done when a toothpick comes out with a couple crumbs and the top springs back when touched.