10 Easy Soup Recipes, #2
This Will Warm You Up On A Cold Winter Day! I know traditional tomato-based chili is the classic standard most people stand by but this White Chicken Chili can definitely give it a run for its money!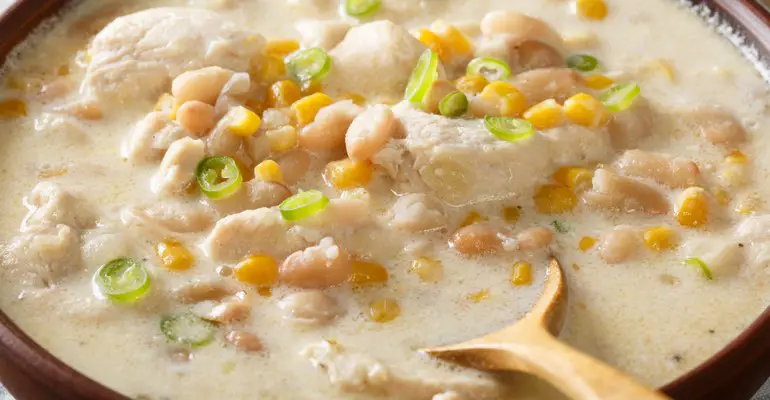 It's perfectly rich and creamy yet somehow still light and even—dare we say it—somewhat healthy. The combination of tender chicken, perfectly seasoned broth, and flavorful beans and chiles makes this a family favorite easy soup recipes.
Plus, it comes together in just about a half hour, making it the perfect meal for just about any night of the week. We love to serve ours with crackers or crumbled up tortilla chips for just a hint of crunch and a sprinkling of cheese. Try this easy soup recipes tonight!
Ingredients (mix up order)
1 pound boneless skinless chicken breasts, cut into ½ inch pieces
T tbsp. olive oil
1 finely chopped onion
2 tsp minced garlic
1½ teaspoons ground cumin
1 teaspoon ground coriander
1 teaspoon salt
½ teaspoon pepper
4 cups chicken broth
1 4-ounce can green chiles (drained)
2 15-ounce cans white beans such as great northern beans (drained and rinsed)
1 cup sour cream
Assorted toppings such as cheese, tortilla strips, chopped cilantro and avocado.
Directions
Heat the olive oil in a large pot over medium heat. Add the onion and cook for 3-4 minutes until translucent.
Add the chicken to the pot along with the cumin, coriander, salt and pepper.
Cook, stirring occasionally, until chicken is cooked through, approximately 5 minutes.
Add the chicken broth, green chiles and beans to the pot; bring to a simmer.
Cook for 10 minutes. Remove the pot from the heat and whisk in the sour cream.
Serve immediately with toppings of your choice.
USE THE RED NEXT PAGE LINK BELOW FOR #1 OF OUR 10 EASY SOUP RECIPES
Quick tip:  This can be made in the slow cooker. Add all ingredient except the sour cream and cook on low 4-6 hours until chicken is cooked through. Shred the chicken and stir in sour cream and cook for 15-30 minutes more before serving.